21 photographs, 21 concertos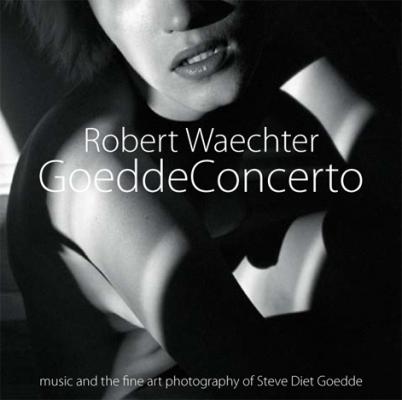 21 PHOTOGRAPHS, 21 CONCERTOS - Steve Diet Goedde - Aradia in Tucson
About the CD:
Robert Waechter, concertmaster of the Philharmonic Orchestra/Opera de Nice, France, and Steve Diet Goedde, internationally renowned erotic photographer, have a released an audio/visual collaboration on CD entitled GoeddeConcerto. The CD features 21 concertos inspired by 21 photographs by Steve Diet Goedde. Robert personally picked the photographs that inspired him and then composed and conducted each individual piece for the CD. The CD contains a 24-page booklet of photographs that accompany the music. Models in the booklet include Aria Giovanni, Ulorin Vex, Justine Joli, Apnea, Kimberly Kane, Masuimi Max, Jillian Ann, and the Porcelain Twinz. Released by ReadyMade Music (France).
About ROBERT WAECHTER:
Vienna-born Robert Waechter learned to play violin by the age of 8.  By the time he turned 20, he had already played in the Vienna Philharmonic Orchestra under such notable conductors as Karajan, Bernstein, Böhm, and Kleiber. In 1980, Robert became the concertmaster of the Hamburg Symphony Orchestra.  Since 1984, he has been the concertmaster of the Philharmonic Orchestra of Nice/Opera de Nice.  GoeddeConcerto is his fourth recording following Fragments, Stillness, and Broken Guru.  His influences include Fritz Kreisler and Steve Reich.
About STEVE DIET GOEDDE:
Steve Diet Goedde has been a fine art erotic photographer since 1990.  He is known for his subtle approach to photographing the high-gloss fetish world in a very non-gloss, down-to-earth style.  His attention to composition and black and white tonal quality has given him the title of the Ansel Adams of fetish.  Steve established his photographic style in the early 1990s in Chicago where he photographed the contents of his first book The Beauty of Fetish (Edition Stemmle) which was released in 1998.  That same year, Steve relocated to Los Angeles where he continued to define his evolving style.  This west coast work was later compiled in his second Edition Stemmle book The Beauty of Fetish: Volume II in 2001.  In 2006, Slish Pix released a DVD compilation of his work entitled Living Through Steve Diet Goedde.
STEVE DIET GOEDDE on GOEDDECONCERTO CD
"Music is a very large part of my life but I was never blessed with the gift of creating music. Visual art is the talent I was given. To make up for this, I often think of my photographs in musical terms. Varying degrees of focus, as the result of low depth-of-field, provide bass tones while subject matter acts as lyrical content. Composition, perspective, lines, and curves often act as rhythmic and percussive points. Robert has the masterful ability to 'hear' my photographs and interprets them into true aural representations of my vision."
ROBERT WAECHTER on GOEDDECONCERTO CD
"I think that neither music nor a single image can tell a story. But both can bring into focus the "fingerprints" that a story leaves behind. These marks are a common notion of music and image. There is no interpenetration between time and space and it is the inability to think of one without the other, which creates the screen for the projection of each person's intimate movie. A more technical aspect is the similarity of the appeal to the sense of touch. By mastering light and other secrets, Steve Diet Goedde's photography presents the perfect illusion of a sensation of texture and materials. The timbre of an instrument or a voice can also provoke sensual associations. When I press the tightened hair of my bow against the metal or nylon of my violin strings, I don't imagine colours but rather, materials - like wood, stone or steel. There are probably more aspects in the perceptions of sound, because the association of femininity and the sounds of a violin is surprisingly frequent in the symphonic repertory. The most famous violin solos are in fact portraits of women (for example - Rimsky-Korsakov's "Scheherazade" or Richard Strauss'  "A Hero's Life")"